I got this from Shane
Ok here we go Quarantine Cruise III
"Take this Virus and shove it"
Will be held Wednesday May 6th, we will gather at Sunset Corners parking lot where we had Toys For Tots at 10:00am and leave at 10:15 am and head North on Bluff St and drive to Enterprise Park and stop there for lunch (a sack lunch is advisable) and bring chairs to sit around 6'+ apart for a short well fair check amongst our friends, then leave back down Hwy 18 to Veyo turn right and drive down past Gunlock Reservoir to the old 91Hwy and on home…
Any Car or Motorcycle will be welcome!
With all that's been going on in the world we have been like most everyone taking care of our families and doing our part to be safe. All the while working on cars. It looks like we might be coming out the other end of this
COVID-19

before to much longer. Hopefully.
We have temporarily shut down the

CALENDAR

while we try to get everything in order and see what events are going to survive. We hope everyone is well and we can't wait to get back on with our lives.
Here at the shop we have been using this time to
renovate and upgrade our facilities and services

. We have also had a friend of ours Colt Proctor who is an Master tech, tuner and

DYNO

expert join us. Last Monday our new DYNO

was waiting for us when we got here Monday morning. we should have it up and running next week. So we can continue to service our customers at the level they have come to expect.

 
was waiting for us when we got here in the morning. We  should have it set up and running next week. So we can continue to service our customers at the highest possible level that they have come to expect.
Also this year marks our

10th YEAR ANNIVERSARY

 serving our friends here in St George, without you  and your support we would not have made it and we cant thank you enough. And to show our appreciation we will be doing random giveaways, discounts and gift certificates. And for anyone that enters our drawing once we have the
DYNO

up and we running we will be giving away some free

DYNO

time. Watch for our entry form in the next week or 2.
Again Thank You for all your support for us over the years it means the world to us and our families.
Also as the warm weather moves back in to sunny Southern Utah. We hope they wont keep us locked up for ever so lets take the time to get our cars ready for when we are back to what we love.
Lets not forget our cars make sure they also get their health check up.

Air Conditioner check up and or recharge. Lube Oil and Filter and just general over all health check up.
We are going to start our weekly updates going each week as we get our calendar in order.
Steve's Hot Rod Garage
There is a lot of fun events planned we hope to see them happen and cant wait to see you there.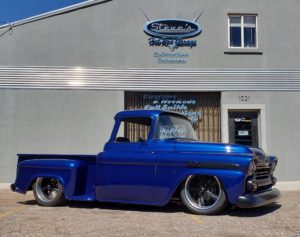 Get out there and support all you can have a great week.
Thanks Steve