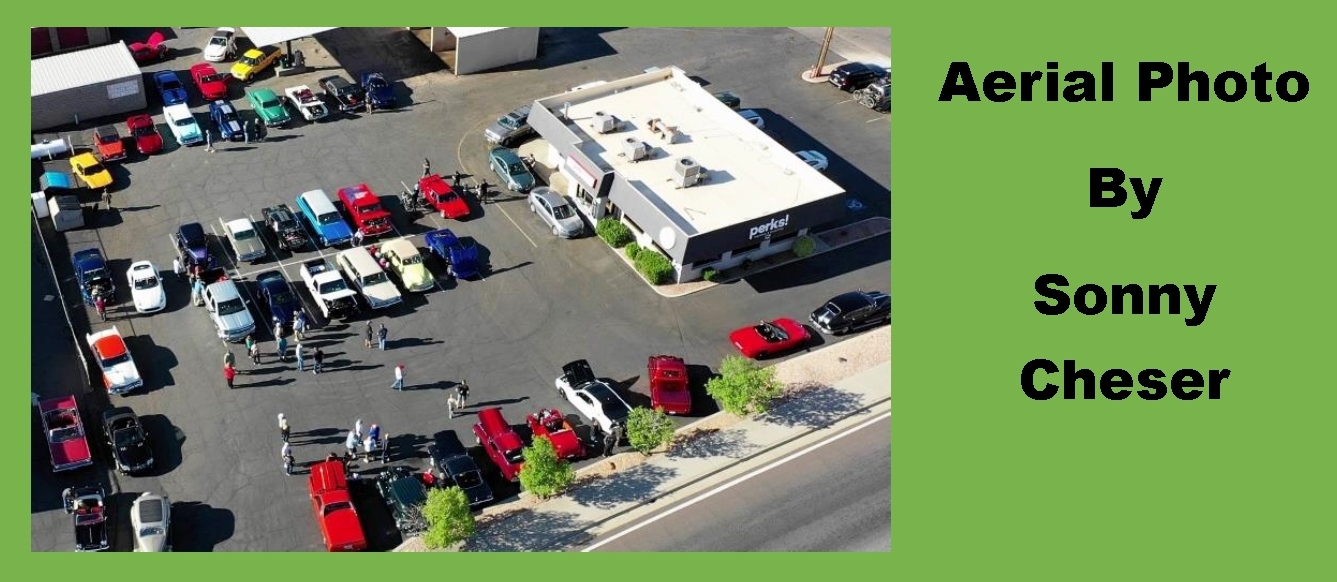 We all know what to do on Tuesday's (Peggy Sue's), Wednesdays (Cracker Barrel), some Thursdays (1880 Grille & Pork Belly's), but what the heck to choose this coming Saturday. Wow! How great it is to have four really great things to do at the same time. Well, try to make several of them if you can. Really most of us just want an excuse to get out and cruise around…..Perfect opportunity.
Tuesday

 Recurring Monthly Event – 

Gears, Grub & Mud at Peggy Sue's Diner

 Organized by The Over the Hill Gang of Virgin Valley 8 AM Mesquite Time – EVERYONE invited.
Wednesday

 

"Hot Rod Hangout" Cracker Barrel

 Each Wednesday Year-around Hours Arrive any time after 8:30 AM.
Thursday

 – Recurring Monthly Event – First Thursday – Over the Hill Gang of Virgin Valley –

1880 

Grille in Mesquite, NV

 – 1499, Falcon Ridge Pkwy, Mesquite, NV 5 PM – 7 PM Mesquite Time Everyone is welcome for Cruise-In/Show & Shine/Dinner.
Saturday

Tuacahn
 Market Show and Shine

10 AM to 1 PM Breakfast & Lunch available starting at 9:00 AM Everyone is invited.
Saturday

April 13 @ 8:00 AM

 – 

April 14 @ 5:00 PM

 

MDT 

Hot Rods And Harleys
Saturday

April 13th Havoc@Brio 10:00 am – 3:00 pm
Saturday

April 13th

Dammeron Valley Car Show

11:00 to 1:00
SATURDAY THE 13TH
Just click on one of the below to view flyer (No flyer for Harley Davidson)
HAVOC @ Brio Car Show Washington, UT 10 AM – 3 PM
Tuacahn Saturday Market, Ivins, UT 10 AM – 1 PM
Dammeron Valley, Washington County, UT Car Show 11 AM – 1 PM
Harley Davidson, Washington, Ut – Vietnam Veterans Show & Shine 11 AM – 2 PM
There is a lot of fun events planned we hope to see you there.
Get out there and support all you can have a great week.
Thanks Steve