Hey Everyone,
We need your help! Help us Fight Teenage Suicide! Desert Sports Mgmt.is teaming up with Reach4Hope Coalition and the American Foundation for Suicide Prevention and we found a fun and exciting way to help.
A Poker Run!
We are going around the Red Mountain and finishing up on an Autocross Course designed by the Race Team at Speedtech Performance. We will have cash prizes, raffles. food trucks, DJ music and lots of Friends. So come out and join us and bring your family, your friends, or just someone you know. Let's do this together and Save Lives!
We put together a video to help promote the show, please share it with your family and friends!
A couple items we would like to go over so you will know what's going on and what to expect for this Saturday's Red Mtn Poker Run.
1) First of all we expect it to be around 100 so bring water with you. We will have water at every stop and be able to go to the bathroom if needed.
2) We will draw a card at every stop and mark it on your card. If you draw the same card you will need to draw a 2nd card. Each stop will have a different color to mark your card. You can buy additional cards only at registration.
3) The route goes by 3 lakes and Snow Canyon Park so enjoy the scenic route. We will keep an eye on weather and fire conditions to keep everyone safe!
Registration is at 8:30 the day of, but if everyone can come early we can start early to make the run in cooler weather.
4) Included is the Map of the Red Mtn Poker Run with its stops. The route is 91.2 miles long.. Allow for stops.This is a run not a race, so enjoy it.
5) Autocross is also not a race but an Exhibition that you get to run and be timed but at a safe speed you can handle. Those who abuse this privilege will be asked to leave.(for safety reasons)
We are looking forward to seeing you on Saturday and having some fun, but most of all looking forward to working together to help Prevent Suicides.
Thank You So Much!
Darren D Nuttall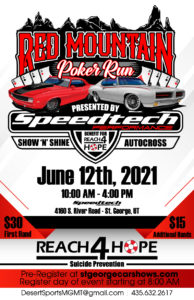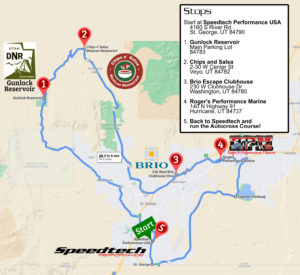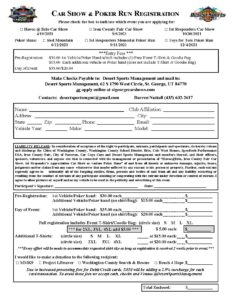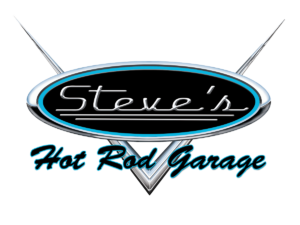 Get out there and support all you can have a great week.
Thanks Steve