Don't forget the Labor Day
Monday
Iron County Fair and Wild West Car Show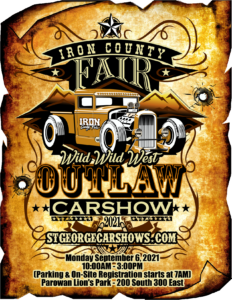 Tuesday

 Recurring Monthly Event – 

Gears, Grub & Mud at 1880 Grill in Mesquite. 

 Organized by The Over the Hill Gang of Virgin Valley 8 AM Mesquite Time – EVERYONE invited. 

(remember time difference from MST)
Wednesday

 

"Hot Rod Hangout" Cracker Barrel

 Each Wednesday Year-around Hours Arrive any time after 8:30 AM.
Saturday

Tuacahn
Show and Shine

10 AM to 1 PM Breakfast & Lunch available starting at 9:00 AM Everyone is invited.
Saturday

 

'Dixie Springs Rebels'

Cars & Coffee

 every Saturday morning from about 8:30 to 10:30 AM (weather permitting) at Dixie Springs Park (Below Sand Hollow main dam). Come and hang out with other car guys every other Saturday morning and talk about our favorite rides while we practice common sense safe get-togethers. Feel free to bring your own coffee.
There is a lot of fun events planned we hope to see you there.
Get out there and support all you can have a great week.
Thanks Steve