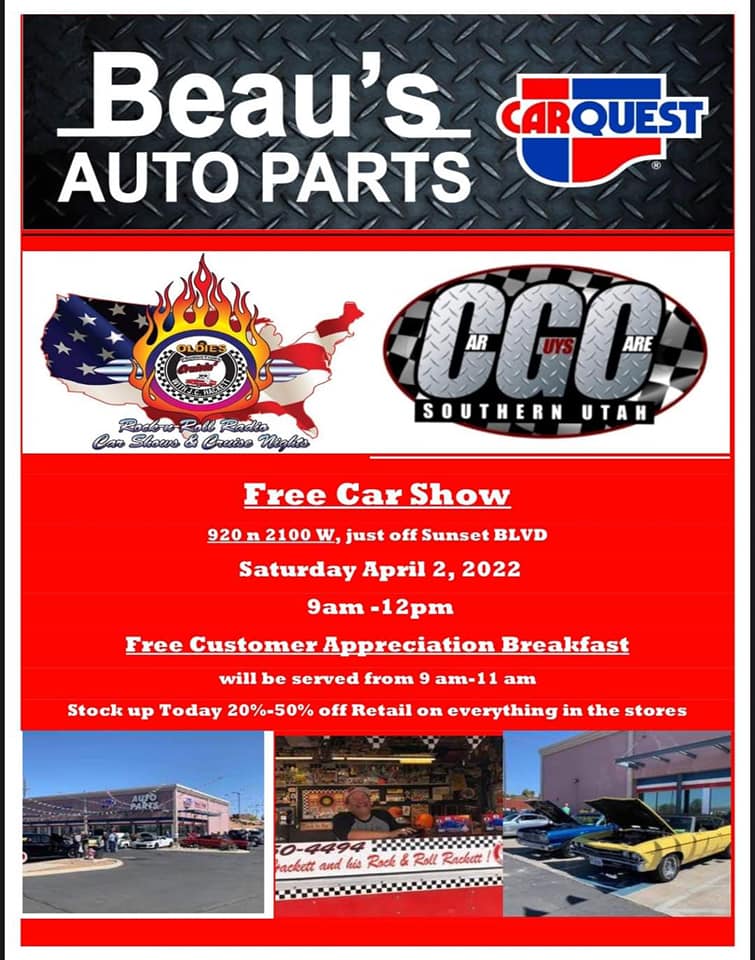 Tuesday

 Recurring Monthly Event – 

Gears, Grub & Mud at 1880 Grill in Mesquite. 

 Organized by The Over the Hill Gang of Virgin Valley 8 AM Mesquite Time – EVERYONE invited. 

(remember time difference from MST)
Wednesday

 

"Hot Rod Hangout" Cracker Barrel

Each Wednesday Year-around Hours Arrive any time after 9:00 AM. Coming up this Wednesday after HotRod Hangout we will be doing a garage tour at Jack and Cyn Hazelgrens new facility!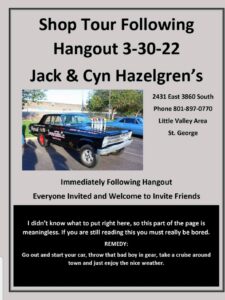 Thursday

 – Recurring Monthly Event – First Thursday – Over the Hill Gang of Virgin Valley –

1880 

Grille in Mesquite, NV

 – 1499, Falcon Ridge Pkwy, Mesquite, NV 5 PM – 7 PM Mesquite Time Everyone is welcome for Cruise-In/Show & Shine/Dinner.
Saturday

 
The Car Guy's Care Cars And Coffee

Saturday morning cruise is back and better than ever with our new partner Beau's Car Quest Auto Parts, this will be a monthly event every 1st Saturday year round starting at 9:00am. Refreshments will be provided by Beau's! 

Hey there all Car Guy's and Gal's there will be a SPECIAL Cars and Coffee presented by the Car Guy's Care group and Beau's Carquest Auto Parts this Saturday April 2nd There will be a Free Pancake Breakfast and Car Show & Shine so pass the word along…So make plans to JOIN US…Thanks to Beau's Carquest Auto Parts for all they do for all of us!!
Everyone Welcome!
There is a lot of fun events planned we hope to see you there.
Get out there and support all you can have a great week.
Thanks Steve