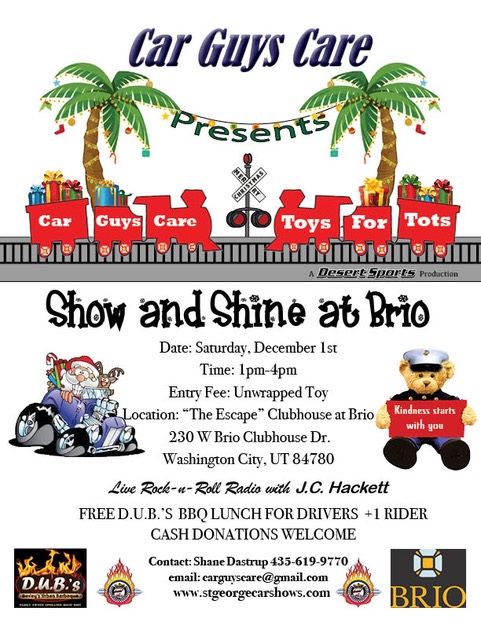 I got a call from Shane after our post below came out seems he has had several calls from folks thinking that both

Cars And Coffee

and the

Toys for Tots

event had been cancelled. So lets make it real clear what has and has not been cancelled sorry if it was in question.
The

Toys For Tots event at Brio

is alive and well

IT HAS NOT BEEN CANCELLED

we will be there with bells on. We will also have our friend JC Hackett the DJ and his crew. And If you

CLICK HERE

it will take you to the flyer for the event.

So rain or shine we will be there collecting toys and donations for Toys For Tots.
Now on to the event that has

cancelled

Cars And Coffee has been CANCELLED

  we don't want to overwhelm everyone with multiple events in one day.

So this is the only event cancelled this weekend

so be sure that Cars And Coffee gets cancelled on your calendar. 
 Here is what our friend JC Hackett says about this weekends fund raiser at Brio. Also Cars and Coffee has been  
CANCELLED.
C-C-C- COLD ?? Well, let's go where its WARMER Come and join us in Southern Utah for a CAR SHOW  (THIS SATURDAY)  Raising funds and TOYS for the kiddies Entry fee is a toy, unwrapped of course, But, just a nice toy to make a child SMILE.  Host Hotel, (and rooms still available..)  Holiday Inn Express & Suites St. George North – Zion  2450 N. Town Center Drive , Washington, Utah 84780.  Call Shane Dastrup 435-619-9770  Check their website … www.stgeorgecarshow.com
Here is a new post by Ken read the story and you will know why the fender photo I quite liked it too. So its on the homepage as well.
Don't forget the Care Guys Care Event at Brio

this weekend. Steve
Several years ago a bunch of us cruised up to Springdale for a little Show & Shine at the old Flying Monkey restaurant and parked on the grass. It was a real nice day, as usual. The sky was so great and the mountains shown off the sun's rays like a heavenly spot. I walked by Steve & Chris Aardema's 1939 Chevy and saw the reflection of some hills to the east of us and couldn't resist a reflection photo on their fender. Too bad I'm caught in it also, but the photo now on the top of this site has always been one of my favorites. For years it was identifiable to all those who used DesertCruzin.com for their car events go-to site. I sold that site to Steve and miss seeing this identifier so I threw it up here for a spell for old times sake. I hope you enjoy it also.  Ken.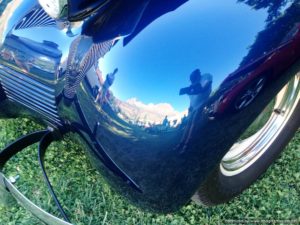 CANCELLED  CANCELLED
Saturday

9 AM

Cars & Coffee @ Perks on Sunset

1st Saturday each month. Friends, Fumes and fun. See the flyer.
Saturday

 

Car Guys Care Show And Shine At Brio

See Flyer.CLICK HERE.
Tuesday

 Recurring Monthly Event – 

Gears, Grub & Mud at Peggy Sue's Diner

 Organized by The Over the Hill Gang of Virgin Valley 8 AM Mesquite Time – EVERYONE invited.
Wednesday

 

"Hot Rod Hangout" Cracker Barrel

 Each Wednesday Year-around Hours Arrive any time after 8:30 AM.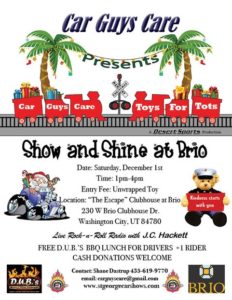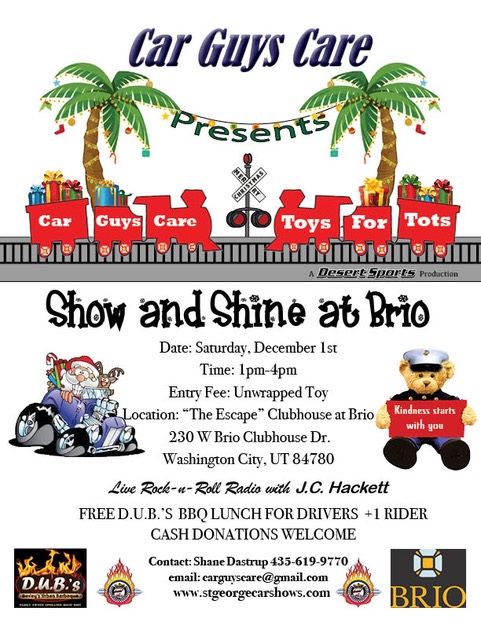 There is a lot of fun events planned for the summer we hope to see you there.
Get out there and support all you can have a great week.
Thanks Steve